Yes, I know today's only the 24th, and I know that this February has 29 days, and I know that I ought to add a fifth week to fiscal February instead of shifting four days into fiscal March. But a five-week February would blow my mind. March will bring the accounting calendar back into harmony with the real calendar.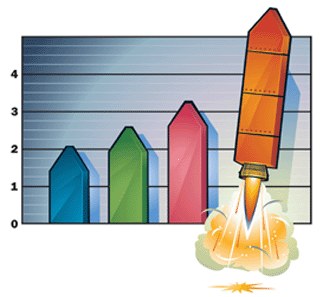 February
Total income: +59.4%
Total COGS: +96.6%
Payroll: +8.4%
Marketing: +69%
Net Income (Profit): +60.3%

Year to Date:

Total income: +14.9%
Total COGS: +34.8%
Payroll: +17.9%
Marketing: +33.1%
Net Income (Profit):

-23.7

%

Looks like a boom to me. Two big telephone sales kicked February over the top: The Create-a-Bird kite sale at the beginning of the month, and a big Animal Print Golf Ball sale today. Excel says I'm up $700 on LY and nearly $200 over plan. Quickbooks is downright breathless (as you see above), but QB doesn't know that an invoice that I prepared as a price quote wasn't a sale. As far as cash flow goes, it's not all unicorns and daisies: I had to order inventory at the usual price to supply discounted sales -- hence the scary Cost of Goods Sold increase. I sacrificed bottom-line income to pay for that extra top-line income. From another perspective: Except in Q4, I want each month's inventory purchases to be less than or equal to the cost of what I shipped that month; this month I had to order $200 more than I shipped.

March 2011 benefited from four unusually large Panther Vision cap and Switchables sales. I'm likely to lose the ground that I gained this month unless my Facebook advertising gamble hits paydirt. I made four sales of advertised items (Panther Vision caps and Switchables) within a few hours after the campaign went live on Tuesday. Then…quiet. I've picked up a few new followers but my FB referral traffic has barely budged from normal and I can't trace a single sale to FB ads. But this was a school vacation week, and that means a lot of people are stuck at home babysitting instead of at work shopping. Next week will be a better gauge. So far, though, it looks like this is going to be a short experiment.

******************

Reasons to hate Quickbooks: I mentioned an autoupdate that will deactivate QB unless I buy the 2012 version. Fine. Requiring an upgrade instead of making customers want it is a fascist business tactic, but Intuit gets away with it. What I didn't bargain for was losing the ability to resize the "Make deposits" dialog. That's right: I can change the height but not the width, so now I have to use the scroll bar on this screen that I use nearly every day. How lousy does a developer have to be to break such basic Windows functionality?